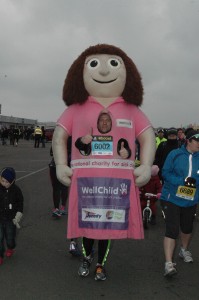 A MEMBER of staff at a Mitsubishi dealership in Gloucestershire has completed a half marathon for charity – dressed as an 11ft tall, bright pink nurse.
Sales team leader Wayne Connolly ran for WellChild, which helps seriously ill children and their families across the UK, when he took on the Silverstone half marathon on March 15.
Not content with the challenge of running 13.1 miles, the 41-year-old dad-of-two decided to wear the charity's outfit of Nessa the Nurse, which weighs 2.5 stone and stands 11ft tall with him inside.

Wayne, from Gloucester, said: 'It was horrible and I'm hurting now but I made it all the way round. The costume was really heavy and it was a windy day but the people on the way round were really nice and encouraged me along.'
The half marathon was part of Wayne's training for when he takes on the London Marathon on April 26. He is aiming to raise at least £1,600 for WellChild from the two events.
WellChild is the chosen charity of CCR Mitsubishi, which owns nine dealerships across the south, including Cirencester Mitsubishi in Gloucester Road, Stratton.
Colin Dyer, chief executive of the Cheltenham-based charity, said: 'We're really pleased Wayne has decided to take on this challenge and raise vital funds for WellChild.

'Donations from people like Wayne enable us to invest more money in charitable programmes for seriously ill children, which is great news.'
WellChild provides essential practical and emotional support for seriously ill children, young people and those who care for them to ensure they receive the best possible quality of care. The patron of the charity is Prince Harry.
MORE: Chrysler withdrawn from sale in the UK
MORE: Passenger car registrations up for 18th consecutive month
MORE: BCA expected to sell for £1.2bn
On SuperUnleaded.com – The Most Exquisite Drag Racing Fails