THEY'VE been to the Swiss Alps and back – and now they're set to be auctioned off to raise even more money for the automotive charity Ben.
Yes, those wonderful bangers that took part in our madcap rally earlier this month are to go under the hammer at BCA Blackbushe tomorrow at 12.10pm.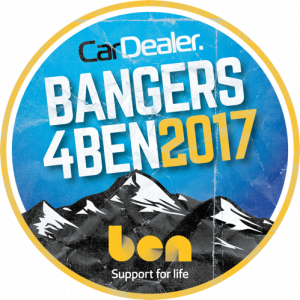 Last year's Bangers4Ben raised a record-breaking £56,448 to help not-for-profit organisation Ben, which partners with the automotive industry to provide life-changing support for its people and their families, and we're aiming to smash that amount.

During the four-day trip, which also dipped into Italy, the B4Bers racked up more than 1,500 miles as they put their bangers through their paces along the Furka Pass, San Bernardino Pass, Klausen Pass and world-famous Stelvio Pass.
Great fun was had by all – as was shown by the tweets that were made throughout the event (day one, day two, day three, day four) but now people will be getting down to the serious business of auctioning off their bangers to raise heaps of cash.
Andy Entwistle, the managing director of Car Dealer Magazine publisher Blackball Media, said: 'We were delighted to support this year's Bangers4Ben rally, which was the ninth one held, and we're already planning the 10th for next year.
'Ben is a fabulous charity, so let's get as many people down to Blackbushe tomorrow as we can to raise as much money as possible.'

Full details of the cars on offer can be found here.
MORE: #B4B17 – Who were the winners of our coveted prizes?
MORE: The Alpine Special is ready to roll for Bangers4Ben!
MORE: Final fundraising total confirmed for #B4B16
On SuperUnleaded.com: McLaren teases next Ultimate Series hypercar