SSANGYONG will showcase its e-SIV concept at the Geneva motor show alongside the European launch of its all-new Musso pick-up truck.
The e-SIV is a strategic model for the brand, and illustrates its approach towards future electric vehicles, connectivity and autonomous driving.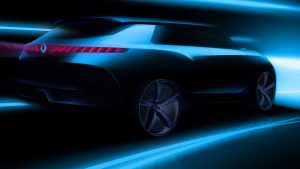 e-SIV – which stands for Electronic Smart Interface Vehicle, has been developed to demonstrate SsangYong's approach towards connected mobility and autonomous driving.

The car will be central in helping to shape the next-generation of SsangYong SUVs and EVs.
The car is powered by a 140kW motor and features fast charging of up to 80 per cent in 50 minutes, with a maximum speed of 150km/h and a range of up to 450km.
This is the company's fifth electric car concept to be exhibited.  Previous models include KEV1 in 2010, KEV2 (2011), e-XIV (2012), and Tivoli EV-R shown at Geneva in 2015.
MORE: Hyundai announces its retail future – including split from Rockar

MORE: Hypocrites! The minister still in thrall to diesel
MORE: Issue 120 of Car Dealer now ready to be downloaded to your iPad
On Workshop Magazine: One hell of a Healey hits the road again!